Membership Drive - 13 months for price of 12!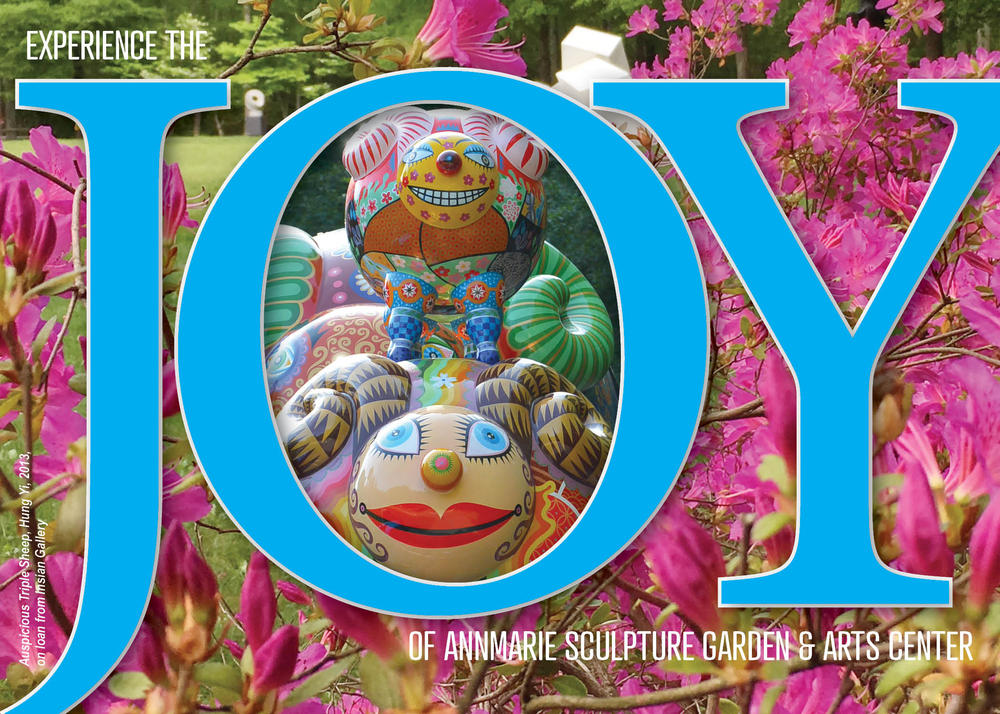 Become a Member Today



Experience the JOY that a membership at Annmarie can bring
to you and your family!
Join Annmarie NOW and receive thirteen (13) months for the price of twelve (12)
MEMBERS ENJOY:
~ Unlimited daily admission to the garden & grounds, including the Arts Building, Fairy Lolly & artLAB
~ FREE and FAST admission to all our festivals, including Artsfest, Fairy House Festival, and Garden in Lights
~ Free admission to Annmarie After Hours!
~ NEW! Membership now includes admission to Halloween in the Garden!
~ Use your extra passes to share the Annmarie experience with friends!
~ Introduce a freind to Annmarie during one of our "Bring a Friend" days
~ Discounts on Summer Camps, Birthday Party Packages & Classes
~ Membership discount in our unique Gift Shop
DID YOU KNOW? Not only do members enjoy special perks, but your support helps ensure the long-term sustainability of Annmarie. Help us fulfill our mission of connecting people to art and nature by becoming a member today – and experience the JOY of Annmarie!
*offer available to new members only; not valid for renewals
Join Ann's Circle –Annmarie's Membership Program
When you become an Annmarie member, you gain access to a variety of exciting and valuable benefits, including unlimited admission to the Murray Arts Building, the Sculpture Garden, Fairy Lolly, artLAB, and Nature Nook
Enjoy admission to art exhibits, special events and festivals including, Artsfest, Fairy & Gnome Home Festival, Halloween in the Garden, Annmarie Antique & Flea Faire, Annmarie Garden In Lights, and Annmarie After Hours.
Share the Annmarie experience with friends and family usng your guest passes!
You will also enjoy discounts on our popular Birthday Party Packages, Art Classes and Summer Camps.
Shop with your membership discount in our unique Gift Shop.
Join Annmarie Garden and become part of a unique place where art and nature meet.
See membership levels and benefits below.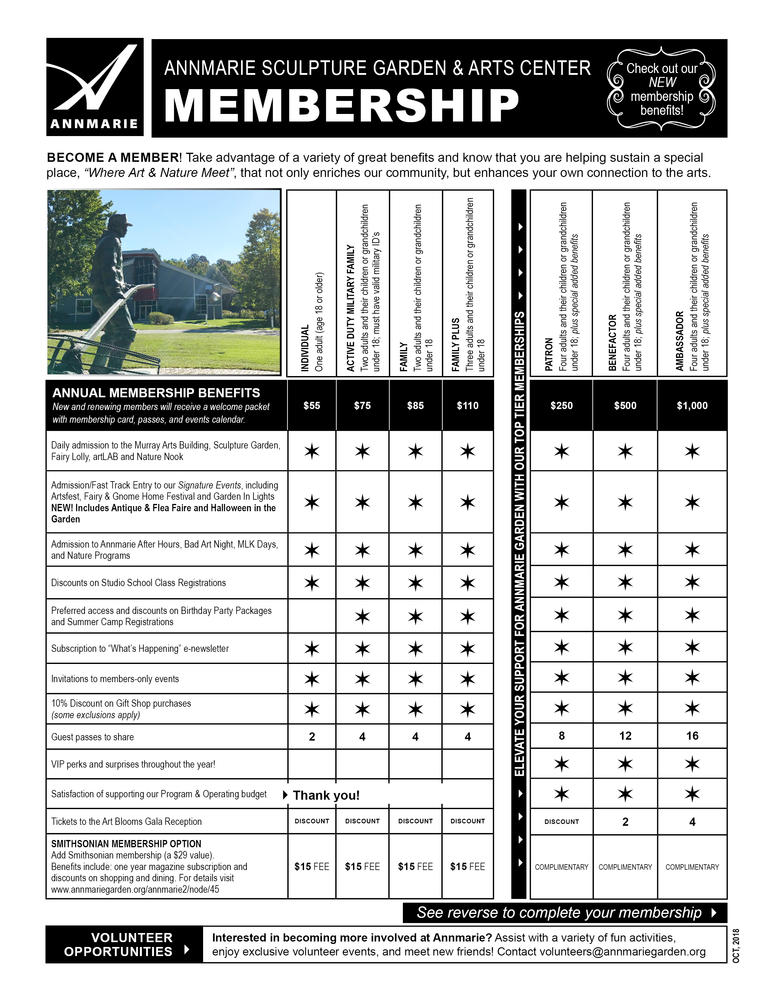 Add a Smithsonian Membership for $15
For an additional $15, Annmarie Members can add a Smithsonian Membership as part of their Annmarie Membership
(a $29 value!)
- One-year subscription to Smithsonian magazine (11 issues) or Air & Space magazine (6 issues)
- 10% discount off all purchases from the Smithsonian catalogue and SmithsonianStore.com
- Discounts on shopping and dining at the Smithsonian
- Travel and tour opportunities with Smithsonian Journey's
- Two personalized Smithsonian Membership cards
- 10% discount on Folkways Recordings

*Please note that the Smithsonian does not manage or provide any funding to Annmarie Sculpture Garden & Arts Center.